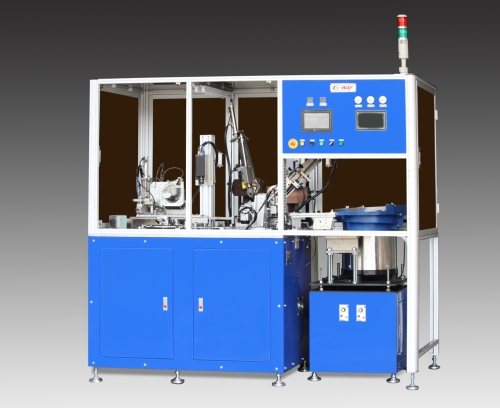 Oil Seal Trimming, Spring Loading and Dimension Measuring Machine
Model:

Model ATOAS-20, ATOAS-40, ATOAS-60

Country of Origin:

Taiwan
Detail Specifications / Descriptions
Operation :
This machine is suitable to cut the flash, load the spring and use the CCD camera to measure the dimension of high volume oil seals in the production line.

The operator picks an oil seal as a sample and measures the dimension by 2D or 3D instrument and then he can set the measured dimension in the HMI as a sample dimension to teach the PLC how to check the measuring parts.
The operator sets the machine with the standard parameters and the tolerances in HMI.
Vibrating tray vibrates the oil seal to the appropriate location.
The vacuum sucks the oil seal to precisely fit it on the central point of the mold on the spindle.
Able to cut the inner lip and flash simultaneously.
Magnet rotator/Vibrating tray feeds the spring to the appropriate location.
The tooling is pulled fast by the air cylinder to combine the oil seal with the spring.
It will check if the spring is correctly loaded by the metal probe.
The CCD camera will measure dimension of the I.D./O.D. of the spring loaded seals.
The machine sorts the parts for good parts and defects.
At the end there must be a counter to count the good seals, after the machine counts the set number the machine will stop with an alarm.
For each stroke of knife there should be a counter to monitor the life of Knife, after the machine counts the set number, the machine should stop automatically for changing the knife with an alarm.