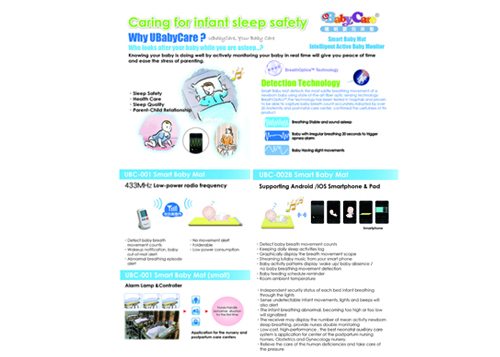 SMART BABY MAT - Intelligent Baby Sleep Monitor Application for Smart phone
Model:

UBC-001 Series

Country of Origin:

China

Color:

yellow
Detail Specifications / Descriptions
UBabyCare Smart baby mat is world's first active baby monitor constructed with highly sensitive fiber optics technology use for smart phone application.
• Baby's breath movement per minute (BPM)
• Keeping daily sleep activities log of your baby.
Report sleeping time & Quality
• Graphically display the breath scope
• Streaming lullaby, story and parents sound from your smart phone
• Baby activity patterns display :wake up/Baby absence /No baby breathing Detection & Alert
• Baby feeding schedule reminder
• Room ambient temperature
It is a safe baby mat that uses fiber optic light (light) is 100% safe for your baby.