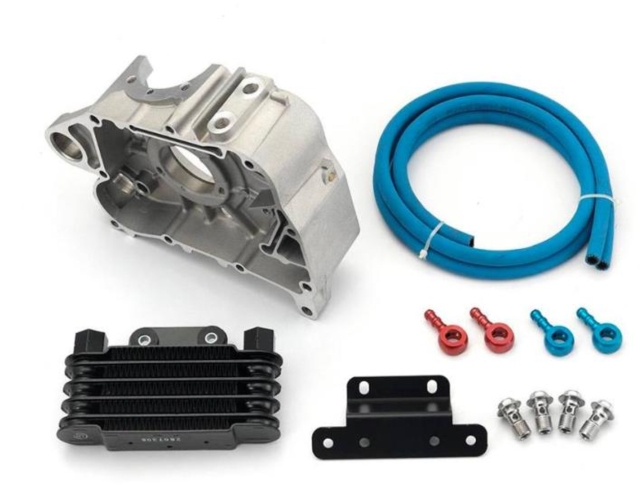 Model:

GY6-050

Country of Origin:

Taiwan

Material:

founding iron ,steel alloy
Detail Specifications / Descriptions
KYMCO GY6 Oil Cooler set
( GY6 オイルクーラーキット, Aeroquip 製の高圧オイルホース , KYMCO-GY6 refrigeración de aceite
Oil cooling refers to a process in which oil is used as a coolant.
The oil is heated by the object it cools and then usually passes through a cooling unit such as an oil cooler. The cooled oil flows back into the hot object to cool it continuously. The Advantages, Oil has a higher boiling point than water, so it can be used to cool items at a temperature of 100°C or higher and Oil is an electrical insulator, thus it can be used inside of or in direct contact with electrical components.
Refer to the website of wikipedia.

GY6-050:GY6 oil cooler set
Using American-made high-pressure oil hoses, ( Aeroquip )
we deliver leak-proof connectors.

Include
1. GY6 case 1 pcs
2. Aeroquip made high-pressure oil hoses
3. oil cooling

When use the oil cooling system on the motorcycle, can reduce overheat on your bike, then to protect the engine. Taida use high quality oil pipe, don't worry the oil leak.
----------------------------------------------------------------------------------------------------
Especificación detallada

En el más bajo de motor es el sitio que se puede poner el aceite de motor, y se llama estanque de aceite.
En el bajo de motor, se taladra 2 huecos, y conectan los dos con mangueras, así el aceite de motor puede correr hasta la caja de agua y vuelva al estanque.
La eficacia de refrigeración de aceite es peor que la de agua, así que no se puede quitar el ventilador. Pero la de aceite es más estable que la de agua, porque se baja la temperatura a través de refrescar el aceite de motor.

KYMCO-GY6 kit de refrigeración de aceite
Se usa manguera de compresión alta y hecha en EEUU.( Aeroquip )
Ofrecemos kit del conector que previene el escape
incluye
GY6 bloque X 1
Manguera de compresión alta(Aeroquip)
Refrigeración de aceite

Si usa este kit de Taida, no necesita preocuparse el problema del escape, porque puede refrescar motor cálido y usamos la manguera de calidad buena.